Mr Robert Morris
Consultant Ophthalmologist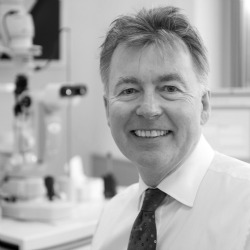 Mr Robert Morris


BSc(Hons), MB BS (Hons), MRCP, FRCS, FRCOphth

Consultant Ophthalmic Surgeon

Areas of expertise: Cataract surgery, Lens Replacement, Laser eye surgery, SMILE, Dry Eyes, Adult Squint

GMC Reg no: 2520230
Qualifications and awards
1990: Certificate in Higher Specialist Training in Ophthalmology, Royal College of Surgeons (Eng)

1990: P.J. Leinfelder Award, University of Iowa, Department of Ophthalmology

1989: F.R.C.Ophth.

1989: Royal College of Surgeons of England Travelling Fellowship

1989: T.F.C. Frost Travelling Fellowship

1986: F.R.C.S. (England)

1983: M.R.C.P. (U.K.)

1979: M.B.B.S. with distinction

1979: M.B.B.S. awarded with Distinction
Registered with the General Medical Council as a Specialist in Ophthalmology

Member of the Royal College of Physicians of London

Fellow of the Royal College of Surgeons of England

Fellow of the Royal College of Ophthalmologists

Member of the United Kingdom and Ireland Society of Cataract and Refractive Surgeons

Member of the European Society of Cataract and Refractive Surgeons

Member of the American Society of Cataract and Refractive Surgeons

American Academy of Ophthalmology
Mr Robert Morris performs eye treatments in the following locations:
About Mr Morris
Robert  Morris trained at St Bartholomew's Hospital part of the University of London London. He graduated with Honours in his final examinations. Before pursuing his chosen career in ophthalmology, he trained in General Medicine in London and obtained Membership of the Royal College of Physicians of London.
He completed his post-graduate ophthalmic training at the renowned units in Oxford Eye Hospital and London's Moorfields Eye Hospital. He also spent a year at the University of Iowa Hospitals and Clinics, one of the United States top five training programmes.
An accredited Consultant within the National Health Service, Robert has held a position of Consultant Ophthalmic Surgeon at Southampton General Hospital since 1991. Within the NHS, he has had a high volume cataract surgery practice and performed over 12,000 cataract procedures. He has an interest in squint surgery and is a national expert in this field. Throughout his career he has been involved in training junior doctors as well as newly appointed consultants in cataract and squint surgery.
In addition to his NHS work, Robert manages a successful independent private practice. He first carried out laser vision correction (PRK) in 1994. He continualy updates his training to keep abreast with the latest technology and techniques in refractive surgery. He is accredited to use the Visx, Alcon Wavelight and Zeiss Excimer lasers. Recently he has adopted Zeiss Smile technology into his practice.
As we cannot always use Laser Eye Surgery to treat presbyopia, Robert returned to the USA in 2002 for further expert training in this specialised area. He now has considerable expertise in Lens Replacement. Professional bodies have invited him to lecture alongside other world leaders in Lens Replacement at international meetings. He is now involved in training courses for other surgeons.
Rob's other roles have included
Chairman of the Wessex Deanery Education Committee responsible for the supervision of trainee ophthalmologists
The Royal College of Ophthalmologists Regional Advisor for Ophthalmology in Wessex Region.

Member of the The Royal College of Ophthalmologists Continuing Professional Development and Paediatric Ophthalmology Committees

Robert has lectured and presented papers nationally and internationally on cataract, refractive and strabismus surgery and published over 35 papers in peer review journals.
Robert founded Grange Eye Consultants to 

manage the increasing demand for more complex refractive surgery. Grange Eye Consultants has since expanded with service in private hospitals in Hampshire, Somerset, Oxford, Guildford and London.

Most recently, Optegra Eye Hospitals 

appointed Robert as their Medical Director. In this role, he responsible for clinical standards in this leading eye hospital group.
Memberships
Registered with the General Medical Council as a Specialist in Ophthalmology
Member of the Royal College of Physicians of London
Fellow of the Royal College of Surgeons of England
Fellow of the Royal College of Ophthalmologists

Member of the United Kingdom and Ireland Society of Cataract and Refractive Surgeons

Member of the European Society of Cataract and Refractive Surgeons
Member of the American Society of Cataract and Refractive Surgeons

American Academy of Ophthalmology
Treatments that Mr Robert Morris performs at Grange Eye Consultants
Cataract Treatment
Refractive Lens Exchange
Laser Eye Surgery
Dry Eye
Adult Squint
Mr Robert Morris explains his training, background and experience
Mr Paul Rosen talks about training, background and experience of Mr Robert Morris
Mr Robert Morris discusses the latest in eye treatment updates
Mr Morris regularly shares updates and video blog posts on common eye treatments
If you're seeking private eye treatment in Guildford, London, Oxford or Southampton , contact us to schedule a consultation with Mr Robert Morris by calling 01865 513 483 or contact us via this email form.