Interview transcription
What is short-sightedness?
We interviewed Rob Morris to learn about short-sightedness. 
Rob Morris: Short-sightedness is a so-called refractive condition of the eye where individuals have very good near vision or short vision, but their distance vision is very blurred. In the vast majority of patients, this is correctable with spectacles and contact lenses.
The problem
Many patients are increasingly seeking surgical solutions for their short-sightedness because they're fed up with their glasses. Maybe they can't wear contact lenses anymore, or perhaps their contact lenses are very inconvenient. Common reasons for people not wanting to wear contact lenses when they're young include travelling, sports, particularly swimming, festivals and having late nights.
And the other thing we're noticing is that in this world of technology and computers short-sighted people wearing contact lenses find that at the end of the day, their eyes dry out. They describe that at the end of the day, their eyes feel gritty or a bit sore, and, interestingly, their vision becomes blurred as well.
As the lenses dry out, it's like looking through a car windscreen that's got drizzle on it. The lenses are half wet and half dry. So we see a lot of young people who say, at the end of the day their vision's blurred. And that's because, although contact lenses correct their short-sightedness, the contact lenses are drying out. This is one of the many reasons why people come to us seeking a permanent solution for their short-sightedness.
The solution
There are very good solutions for short-sightedness now, principally corneal laser refractive surgery. Corneal laser refractive surgery is surgery on the cornea of the eye. The cornea of the eye is the part of the eye that we put a contact lens on, and by reshaping the cornea – essentially lasering the shape of a contact lens on the cornea – we can correct short-sightedness.
There are, of course, many types of corneal laser refractive surgery which have evolved over the years, and that started with so-called surface procedures which are known as PRK or LASEK. That's evolved into flap based procedures, which are known as LASIK, and we always perform flap surgery using two lasers, one a femtosecond laser to create a tiny, very thin corneal flap, and a second to reshape the cornea.
The new technology is SMILE, and SMILE is a very interesting technology. It's keyhole LASIK, and that's very suitable for certain groups of patients.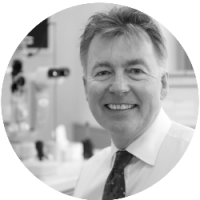 Mr Robert Morris
BSc(Hons), MB BS (Hons), MRCP, FRCS, FRCOphth
Consultant Ophthalmic Surgeon
Robert Morris trained at St Bartholomew's Hospital part of the University of London. He graduated with Honours in his final examinations. Robert completed his post-graduate ophthalmic training at the renowned units in Oxford Eye Hospital and London's Moorfields Eye Hospital. Within the NHS, he has had a high volume cataract surgery practice and performed over 12,000 cataract procedures. He has an interest in squint surgery and is a national expert in this field. In addition to his NHS work, Robert manages a successful independent private practice. He continualy updates his training to keep abreast with the latest technology and techniques in refractive surgery.