Interview transcription
What are the dry eye treatment risks?
In an interview, Robert Morris discusses the risks of dry eye treatment. 
Robert Morris: The risks of dry eye treatment are very low. Most patients respond well to treatment with drops, artificial tear drops, for treatment of their dry eye. And we tend, increasingly, to use preservative-free eye drops.
Risks of traditional artificial teardrops
Traditionally, artificial tear drops had a preservative in them. They came in a little bottle, and the preservatives stopped the drops going off. But what we learned was the preservatives themselves can react with the surface of the eye, so the reaction may be that they are slightly acidic, and so they cause an acidic effect on the surface of the eye which, of course, can make the symptoms of dry eye worse. Also, some people are, frankly, allergic to the preservatives in dry eye drops, they would get itchy, puffy sore eyes as if they had hay fever.
Advanced dry eye drops
We have learned that using artificial tear drops without preservatives has been an enormous step forward in the treatment of dry eye. Essentially, the drops have no drug in them – they are merely wetting solutions – they don't cause any toxic effects in the sense of a drug.
There are more advanced dry eye drops which we use. There's one called cyclosporine which is an anti-inflammatory drop, and that is a drug, but it's used once a day in very small doses, so it doesn't have a systemic toxic effect. So regarding dry eye treatment from drops, there are very few risks.
Possible treatment for dry eyes
With dry eye, it may be because not enough tears are being produced or the plug-hole in the drainage canal on the inside of the eyes is draining tears too quickly. So one may want to treat that drainage canal. One can put a plug in it, a little silicone plug to occlude it, or one can permanently occlude that tear duct. But we always start with the silicone plugs.
Occasionally you can put a plug in the eye, and it can slightly rub on the surface of the eye and cause irritation, so one has to remove it. But that's a temporary effect, so it's not a risk. There's a risk that it could rub the eye, but it's easily addressed. If artificial tear drops work well, then one can permanently occlude the tear duct opening by heating it under local anaesthetic, so one may get a bit of bruising with that treatment.
Fortunately for us, a dry eye which is common, has lots of treatment options, and the risks of them are all very low, and I don't think any of them cause a permanent issue.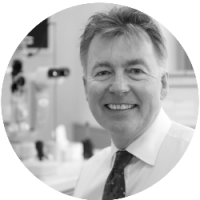 Mr Robert Morris
BSc(Hons), MB BS (Hons), MRCP, FRCS, FRCOphth
Consultant Ophthalmic Surgeon
Robert Morris trained at St Bartholomew's Hospital, part of the University of London, and graduated with Honours in his final examinations. Robert completed his post-graduate ophthalmic training at the renowned units in Oxford Eye Hospital and London's Moorfields Eye Hospital. Within the NHS, he has performed over 12,000 cataract procedures. He has an interest in squint surgery and is a national expert in this field. In addition to his NHS work, Robert manages a successful independent private practice. He continually updates his training to keep abreast with the latest technology and techniques in refractive surgery.