What is astigmatism?
Astigmatism is one of the refractive errors affecting the eye. The others are myopia, short-sightedness, and hyperopia, long-sightedness. Astigmatism is very common and a lot of people say, I have astigmatism; can you do anything about that? Well, you can do a lot about astigmatism but firstly to describe what it is. It is when myopia, short-sightedness or long-sightedness, is different in two different directions.
What part of the eye does astigmatism affect?
So it's usually on the cornea, the bit of the eye that we put a contact lens on. And if you could imagine the cornea, instead of being around like a soccer ball, is oval like an egg or a rugby ball. So that the spectacles you require need a different strength in two different directions. And it's nearly always perpendicular, so they're at right angles to each other. So astigmatism is nothing serious. People worry about astigmatism; they think it's something dangerous or unhealthy in the eye and it's not; it's very common.
What does it mean if you have high degrees of astigmatism?
High degrees of astigmatism are less common, but they are easily correctable with spectacles. It's easily correctable with contact lenses and it's easily correctable with cornea laser refractive surgery or refractive lens surgery.
What is the difference between short-sightedness and astigmatism?
So people having cornea laser refractive surgery will commonly say, I'm short-sighted, can you treat my astigmatism as well? And it's very simple because what one does is it programmes the laser to apply a different treatment on the cornea in two different directions, 90 degrees apart. And it's simple and it's an
accurate way of correcting astigmatism. The symptoms of astigmatism are simply those of blurring. So if somebody's short-sighted with astigmatism, their symptoms will essentially be the same as if they're just short-sighted. So it's hard with patients with similar symptoms because you don't notice any difference in their description of the symptoms. If it's severe, then they may describe objects being elongated in one direction as opposed to another. But that is unusual for patients to be aware of that because their brain's adapted to what they have.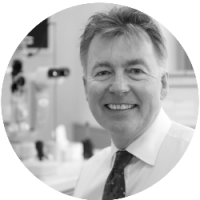 Mr Robert Morris
BSc(Hons), MB BS (Hons), MRCP, FRCS, FRCOphth
Consultant Ophthalmic Surgeon
Robert Morris trained at St Bartholomew's Hospital part of the University of London. He graduated with Honours in his final examinations. Robert completed his post-graduate ophthalmic training at the renowned units in Oxford Eye Hospital and London's Moorfields Eye Hospital. Within the NHS, he has had a high volume cataract surgery practice and performed over 12,000 cataract procedures. He has an interest in squint surgery and is a national expert in this field. In addition to his NHS work, Robert manages a successful independent private practice. He continualy updates his training to keep abreast with the latest technology and techniques in refractive surgery.