What are the risks of cataract surgery?
Cataract surgery is an operation, and all operations carry risk. However, with modern keyhole cataract surgery, the risks of surgery are now low.
Postoperative Risks
The most serious risk would be an intraocular infection, which is a serious complication that can lead to loss of sight. I've done over 25,000 procedures, and in that time, I've had three patients who've had an infection. None in the last six years, since we've changed our antibiotic regimes. We now inject an antibiotic into the surface of the eye with a solution that patients can't feel, and that's hugely reduced the risk of infection.
Operative Risks
Now there can be complications at the time of surgery, and rarely, we may not be able to replace the cataract with a new intraocular lens at the time of surgery. But if it occurs, one replaces the lens two to three weeks later, once the eye has settled.
At times, following surgery the pressure may be a little bit high, the eye can be inflamed, and again that can typically be treated with drops.
Rarity of Risks
So, although cataract surgery is a surgical procedure which carries risks, the risks are rare, and most of them are treatable. And it's most unusual for patients to not benefit from cataract surgery as a result of a complication.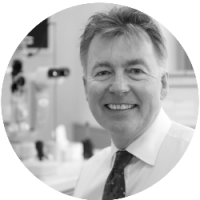 Mr Robert Morris
BSc(Hons), MB BS (Hons), MRCP, FRCS, FRCOphth
Consultant Ophthalmic Surgeon
Robert Morris trained at St Bartholomew's Hospital part of the University of London. He graduated with Honours in his final examinations. Robert completed his post-graduate ophthalmic training at the renowned units in Oxford Eye Hospital and London's Moorfields Eye Hospital. Within the NHS, he has had a high volume cataract surgery practice and performed over 12,000 cataract procedures. He has an interest in squint surgery and is a national expert in this field. In addition to his NHS work, Robert manages a successful independent private practice. He continualy updates his training to keep abreast with the latest technology and techniques in refractive surgery.