I invite you to book an appointment at Grange Eye Consultants
If by watching any of our YouTube videos, it stimulated your interest, or you can identify with one of the symptoms that we've described, or you have any of the conditions that we've been talking about, it would be a great honour to be able to see you. And I would encourage you to book an appointment to come and see us.
One of the things we pride ourselves at Grange Eye Consultants is that if you come and see us, you will see one of us, the surgeon. That's really important to us. Because what we want to do is see you, arrange the appropriate investigations for you, so that we can fully assess your eye condition.
We will then come up with a plan of what your condition is, what we need to do about it if anything, and how we could take things forward.
It's essential that during that process, we explain things to you in detail, make sure you have a comprehensive understanding of what's going on, and if you do go forward with treatment, what that option is for you.
And all treatments are customised to the individuals. That's why, as surgeons, we need to see you ourselves.
It may be that other places will follow a treatment pathway and slot patients into a treatment pathway. For us, that's not the way forward. Treatment needs to be individualised, depending on your requirements and your eyes and what the best option is available for you.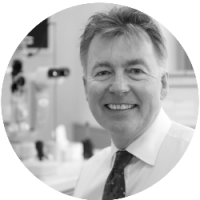 Mr Robert Morris
BSc(Hons), MB BS (Hons), MRCP, FRCS, FRCOphth
Consultant Ophthalmic Surgeon
Robert Morris trained at St Bartholomew's Hospital part of the University of London. He graduated with Honours in his final examinations. Robert completed his post-graduate ophthalmic training at the renowned units in Oxford Eye Hospital and London's Moorfields Eye Hospital. Within the NHS, he has had a high volume cataract surgery practice and performed over 12,000 cataract procedures. He has an interest in squint surgery and is a national expert in this field. In addition to his NHS work, Robert manages a successful independent private practice. He continualy updates his training to keep abreast with the latest technology and techniques in refractive surgery.