Do you ever operate on both eyes together for cataract surgery?
Historically cataract surgery was always performed on one eye at a time and one waited in a patient with bilateral cataracts, for the first eye to fully heal before operating on the second eye. As cataract surgery has become more and more sophisticated it is now essentially keyhole surgery through a tiny nick in the eye.
The time between surgeries increasingly shrinking.
First, we used to separate surgery by a month so we do the second eye a month after the first eye and then we reduced it to two weeks and then we reduced to a week. And now many surgeons, including myself, operate on both eyes at the same time, in certain patients.
Why some clients prefer to have both eyes done at the same time.
Now we would only do that in a patient whose eyes were otherwise healthy, who didn't have any other eye disease like glaucoma or diabetic retinopathy, but many patients find that a satisfactory solution. It's particularly helpful for patients who have a need to get back to driving quickly, they may be the only driver in the family and so doing both eyes together will rehabilitate them quickly.
It's also particularly useful for patients who've got thick spectacle lenses because in the following surgery the first eye that's operated on, one will no longer need a spectacle lens, for instance, typically, so if the other eye needs a spectacle lens it's very unbalancing for a patient. They won't be able to drive because they won't be able to judge distances and if they're the sole driver in the family the sooner that second eye can be operated on, the better.
Now as the results of surgery and the risk of infection is low and the complications are now low, approximately 20% of patients are choosing to have bilateral cataract surgery which means that their rehabilitation back to driving, getting new reading glasses and functioning is much, much quicker.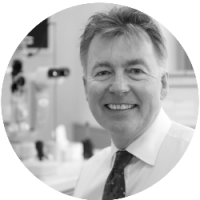 Mr Robert Morris
BSc(Hons), MB BS (Hons), MRCP, FRCS, FRCOphth
Consultant Ophthalmic Surgeon
Robert Morris trained at St Bartholomew's Hospital part of the University of London. He graduated with Honours in his final examinations. Robert completed his post-graduate ophthalmic training at the renowned units in Oxford Eye Hospital and London's Moorfields Eye Hospital. Within the NHS, he has had a high volume cataract surgery practice and performed over 12,000 cataract procedures. He has an interest in squint surgery and is a national expert in this field. In addition to his NHS work, Robert manages a successful independent private practice. He continualy updates his training to keep abreast with the latest technology and techniques in refractive surgery.