How long will dry eye treatments results last?

 
Dry eye treatment results will last as long as you're taking the therapy.  All dry eye treatment patients require artificial tear drops. 
Treatment factors.
Some also benefit from taking fish oil, namely omega-3 tablets, and we will have patients who are using their dry eyedrops and taking their omega-3 tablets, but if they stop them, their dry eye symptoms will recur. 
As long as patients are taking their treatment, their dry-eye symptoms will be controlled.  If they stop their treatment, their dry eye symptoms may recur. 
Environmental factors.
It's important also to realize that there are environmental aspects to dry eye.   So, patients working in an air-conditioned environment, a heated environment, using computer screens, the tears will evaporate from the surface of the eye in what's known as evaporative dry eye syndrome. 
Modifying one's working conditions and the way one works can also have an effect on how effective, and the longevity of dry eye treatment. 
So, one can treat dry eyes, one can control dry eyes, but one can't cure dry eyes.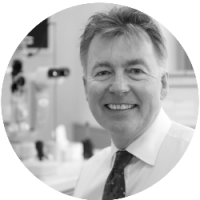 Mr Robert Morris
BSc(Hons), MB BS (Hons), MRCP, FRCS, FRCOphth
Consultant Ophthalmic Surgeon
Robert Morris trained at St Bartholomew's Hospital part of the University of London. He graduated with Honours in his final examinations. Robert completed his post-graduate ophthalmic training at the renowned units in Oxford Eye Hospital and London's Moorfields Eye Hospital. Within the NHS, he has had a high volume cataract surgery practice and performed over 12,000 cataract procedures. He has an interest in squint surgery and is a national expert in this field. In addition to his NHS work, Robert manages a successful independent private practice. He continualy updates his training to keep abreast with the latest technology and techniques in refractive surgery.