How long will cataract surgery results last?
Once a cataract is removed and the mistiness in vision has been removed, the results of cataract surgery are permanent.
How the cataract procedure works.
A cataract is the lens in the eye becoming opaque. The lens of the eye is a protein, just like egg white. And when egg white goes off, it becomes cloudy, and you can't see through it.
At cataract surgery, the whiteness of the lens is removed. You can liken the lens of the eye to a plum. It has a skin, a flesh, and a stone. So, we take a little disc of skin off the front of the lens, and then with an ultrasound machine we remove the stone and the flesh, so we're just left with the skin of the plum.
And then we inject a new, clear, plastic or acrylic lens in its place. And that lens goes in through the little nick in the eye, rolled up, and unfolds in the eye like a flower; it opens out.
The possibility of after-cataract.
At the end of surgery, you have a clear skin and a clear lens. Now in about 5-10% of people over time, the skin of the eye can thicken or crinkle, and that's known as an after-cataract.
If that happens, the effect of cataract surgery does wear off. But it's a very simple matter to deal with because there's an outpatient procedure, you can polish that thickened skin up with a laser, which is a sort of 3- or 4-minute procedure.
The effects of cataract surgery are permanent. One can develop an after cataract, or a secondary cataract, but that's easily treatable with a laser as an outpatient procedure.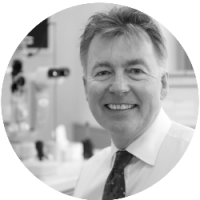 Mr Robert Morris
BSc(Hons), MB BS (Hons), MRCP, FRCS, FRCOphth
Consultant Ophthalmic Surgeon
Robert Morris trained at St Bartholomew's Hospital part of the University of London. He graduated with Honours in his final examinations. Robert completed his post-graduate ophthalmic training at the renowned units in Oxford Eye Hospital and London's Moorfields Eye Hospital. Within the NHS, he has had a high volume cataract surgery practice and performed over 12,000 cataract procedures. He has an interest in squint surgery and is a national expert in this field. In addition to his NHS work, Robert manages a successful independent private practice. He continualy updates his training to keep abreast with the latest technology and techniques in refractive surgery.