Interview transcription
Why do some patients prefer ReLEx SMILE?
We interviewed Robert Morris to learn why some patients prefer ReLEx SMILE over other vision correction procedures. 
Robert Morris: Some patients prefer ReLEx SMILE because it's a very comfortable procedure.
Intra-operative Advantages
The laser that applies the VisuMax SMILE treatment has a very low suction effect on the eye, so it's barely perceptible. Some lasers used for LASIK, which create flaps, cause more pressure on the eye because the suction pressure is higher. So during the procedure, it's very comfortable. Patients find it painless, and it's also very quick, so it's comfortable for patients.
Post-operative Advantages
The other advantage is post-operative. Many patients have SMILE because they're not suitable for LASIK, and the only alternative is a surface base procedure, namely PRK or LASIK. With PRK or LASIK the surface skin is loosened with alcohol and then slid off the surface of the eye and may or may not be replaced. However, what that is essentially doing is inducing a scratch on the surface of the eye. This takes two to four days to heal properly.
During that two to four day period, the eyes are variably very gritty and watery, they're very sensitive to light, and maybe, in some patients, quite painful. In addition, the vision is very blurred, and visual recovery is very slow. I tell patients that have a surface-based procedure that it will be four to six weeks before their vision is really crisp and they feel like they've got that fine-tuning.
In contrast with SMILE, there is no pain postoperatively. The eye is very comfortable – rarely even a foreign body sensation – and the visual recovery is very quick. You can see instantly, and for 24-48 hours, it may be a little misty. I would expect patients to be back at work within 48 hours, and by 72 hours, the vision is quite crisp. When I see patients at a week postoperatively, they're seeing, driving, working, which isn't always the case with surface treatments.
LASIK vs SMILE
So people prefer SMILE over a surface procedure because it's more comfortable and the visual recovery is quicker. As far as comparing SMILE with LASIK, the LASIK procedure is also painless, although with some lasers the pressure can be higher, as I mentioned. But if we perform LASIK with the VisuMax laser, the same one that we do SMILE with, it's painless.
If patients have a little bit of a dry eye, many patients undergoing laser eye surgery because they can no longer wear contact lenses. The reason they can no longer wear contact lenses is that their eye is dry. So they have a fundamentally dry eye, and they may be using artificial teardrops. Now, in that group of patients, if they have LASIK, they will need to use many more frequent artificial tear drops after surgery. And they will be aware of the eyes being gritty and blurry because of a dry eye.
Now, because SMILE is essentially keyhole LASIK, the chance of surgery making the dry eye temporarily worse is much less. So it's much more comfortable postoperatively for patients with a dry eye to have a SMILE procedure than it is a LASIK procedure. The visual recovery is essentially the same, and, in fact, with LASIK it's probably 24 hours or so quicker than with SMILE, but it's much more comfortable.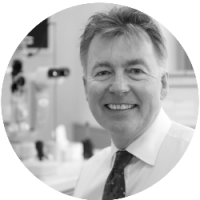 Mr Robert Morris
BSc(Hons), MB BS (Hons), MRCP, FRCS, FRCOphth
Consultant Ophthalmic Surgeon
Robert Morris trained at St Bartholomew's Hospital, part of the University of London, and graduated with Honours in his final examinations. Robert completed his post-graduate ophthalmic training at the renowned units in Oxford Eye Hospital and London's Moorfields Eye Hospital. Within the NHS, he has performed over 12,000 cataract procedures. He has an interest in squint surgery and is a national expert in this field. In addition to his NHS work, Robert manages a successful independent private practice. He continually updates his training to keep abreast with the latest technology and techniques in refractive surgery.