Interview transcription
How soon can I return to work after ReLEx SMILE?
In an interview, Robert Morris discusses when you can get back to work after ReLEx SMILE laser eye surgery. 
Robert Morris: Return to work after ReLEx SMILE is really quite quick. What I advise patients is that the day after surgery, I like to see and examine them, and if all is satisfactory after that, they can return to work.
I usually suggest, as most people can now, to work from home that day, but then to go back to work the following day. So back to work in 48 hours.
The vision isn't pinpoint at 24 hours, so I think detailed screen work might be difficult, and a lot of people who request ReLEx SMILE are screen workers. But I'm comfortable with them working from home the next day, not overdoing it, being sensible, but returning to work 48 hours later.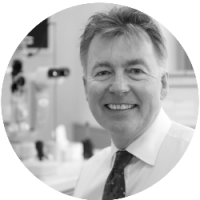 Mr Robert Morris
BSc(Hons), MB BS (Hons), MRCP, FRCS, FRCOphth
Consultant Ophthalmic Surgeon
Robert Morris trained at St Bartholomew's Hospital, part of the University of London, and graduated with Honours in his final examinations. Robert completed his post-graduate ophthalmic training at the renowned units in Oxford Eye Hospital and London's Moorfields Eye Hospital. Within the NHS, he has performed over 12,000 cataract procedures. He has an interest in squint surgery and is a national expert in this field. In addition to his NHS work, Robert manages a successful independent private practice. He continually updates his training to keep abreast with the latest technology and techniques in refractive surgery.