How might computer vision syndrome affect work and productivity?
I don't think it's quantified, but it's very likely it does have an impact on work productivity.
Patients with computer vision syndrome do become very symptomatic towards the end of the day, depending on how severe their symptoms are. And of course, that might mean that at the end of the day, they're much less productive in the work that they do.
Another thing I hear often from patients is that towards the end of the day, they're struggling to see figures properly. So, they can't quite distinguish a 3 from an 8, or a 5 from a 6, or a 1 from a 7. And of course, in an environment where figures are important, and spreadsheets are crucial, that could have a huge impact on work productivity and lead to mistakes.
So, the impact of vision on work productivity could lead to mistakes. Similarly, I don't think people work as well when their eyes are tired, uncomfortable, red. They may go home early because their eyes feel sore. They may be less effective in the afternoons.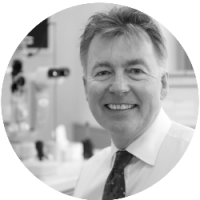 Mr Robert Morris
BSc(Hons), MB BS (Hons), MRCP, FRCS, FRCOphth
Consultant Ophthalmic Surgeon
Robert Morris trained at St Bartholomew's Hospital part of the University of London. He graduated with Honours in his final examinations. Robert completed his post-graduate ophthalmic training at the renowned units in Oxford Eye Hospital and London's Moorfields Eye Hospital. Within the NHS, he has had a high volume cataract surgery practice and performed over 12,000 cataract procedures. He has an interest in squint surgery and is a national expert in this field. In addition to his NHS work, Robert manages a successful independent private practice. He continualy updates his training to keep abreast with the latest technology and techniques in refractive surgery.